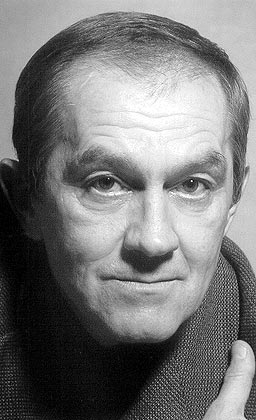 On†the first day of†2015, Peopleís†Artist of†Russia Sergey Sosnovsky is†celebrating his 60th anniversary.
After graduating from Slonov Theater College of†Saratov in†1976, Mr.†Sosnovsky has joined the company of†Saratov Academic Youth Theatre where he†played Konstantin (
The Seagull
), Chernyshevsky (
What Is†to†Be†Done?
), Touchstone (
As You Like It
). In†1985, Sergey moved on†to†the Saratov Drama Theatre, where for two decades he†was the leading actor. There he†has been seen in†plays like
The Master and Margarita
(Korovyev),
The Crimson Island
(Likki-Tikki),
Christ and Us
(Prokofi Dvanov) based on†
Chevengur
by†Andrey Platonov,
A Twinkle in†the Prairie
(Sasha Lomakin),
The Toastmaster
(Simon),
Dodo
(Henry),
Toybele And Her Daemon
(Gimple the Dolt),
The Lower Depths
(Satin) and many more.
In†2004†Mr.††Sosnovsky was invited to†join the Moscow Art Theatre company, where he†immediately became one of†most popular actors. His acting credits here include
Hamlet
(Ghost of†Hamletís†Father, the Actor),
Ivanov
(Shabelsky),
Live and Remember, 12†Pictures of†the Painterís†Life
(Michel),
The Last Day of†Summer
(Sofronov),
The Seagull
(Sorin). His current portfolio includes appearances in†
The Golovlyov Family
(Vladimir Golovlyov),
The Pillowman
(Typolsky),
The Threepenny Opera
(Jonathan Pitchem),
Zoyaís†Apartment
(Halleluiah),
Beast of†the Moon
(Master),
The Master and Margarita
(Berlioz),
Italian Straw Hat
(Vezine),
The Drunks
(Gustavus). In†Tabakovís†theatre he†has starred as†Tomas in†
Bolero
, Sarafanov in†
The Elder Son
, and Sorin in†
The Seagull
.
Moscow Art Theatre joins in†sending our anniversary greetings to†Sergey Sosnovsky wishing him joy, health, new roles on†stage and in†films, and, of†course, lots of†success!