>  October 31,
The Musketeers. A Saga. Part One — performance has been rescheduled
Dear patrons,

November 1 has been declared a national day of mourning due to the Russian plane crash in Egypt on October 31.  The performance of The Musketeers. A Saga. Part One, scheduled originally for Sunday, November 1, will now be presented on Friday, December 4.  Original tickets will remain valid.  Those wishing to return their tickets for a full refund must do so at the Moscow Art Theatre box-office on or before November 5.

For further enquires please call +7 (495) 646-3-646 or +7 (495) 692-67-48.
>  October 29,
December subscription on sale
Dear Patrons,

December subscriptions are now on sale at the box-office. The offer includes various price ranges — from the front row of the 2nd balcony to the 5th row of the parterre. We offer the following subscriptions:

Opening Nights. Truth Is Good But Happiness Is Better on December 3, The Hotline on December 20,  The Mavericks on December 30.  Price: 2  500₽.

Russian Classics. The Cherry Orchard on December 17, Kreutzer Sonata on December 20, A Gentry Nest on December 27. Prices from 2  000₽ to 5  500₽.

Happy New Year! The Drunks on December 23. Leading Ladies on December 28. N°13D on December 30. Prices from 4  250₽ to 9  000₽.

For more information and to order subscriptions please call +7 (495) 629-65-95.

Subscription advantages:
1. Best seats within the price category.
2. Gift Wrapping
3. Your seats are always guaranteed.
4. Added convenience (book before tickets go on sale and your tickets will be available for later purchase).

Treat your friends or yourself to the Moscow Art Subscription!


>  October 26,
MXAT 117th anniversary celebration
Today the Moscow Art Theatre celebrated its 117th anniversary. Annual ceremony honoring our colleagues, who have been serving the Moscow Art for 15 years and more took place at the Portrait Lobby. Following the tradition established by the founders of the theatre, the veterans of the Moscow Art were presented with personalized tokens – the Seagull pins, Stanislavsky medals, as well as jewelry-pendants and watches, – in bronze, silver and gold with MXAT insignia.

Presenting the awards were MXAT Artistic Director Oleg Tabakov and MXAT School President Anatoly Smeliansky.

Oleg Tabakov:"Today our theatre turned 117 years old. Of course, all celebrations can become boring, and we get used to any awards, but each time, looking at the carefully compiled lists of award recipients, I am amazed. Those people give to this theater not just days and months of their lives. Those whom we honor today here in the Portrait Lobby, they give to this theatre their entire selves. This devotion is admirable. Today we do not make a difference between actors who are, so to speak, in the spotlight, and those who in the old days of the Art Theatre were called shadow people. Those shadow are full of light!  I know each of them for years and years, and I am proud to work in the same theater with them.

We start delivering the Seagulls to those who served this stage for 15 years, and then go up the ladder and reach those who gave this theater 40 years, and half a century, and even 70 years of their life. There are very few theatres like this one on Earth! Well, now let's start honoring these people and let's thank them all together for the love of the theater, for the dignity of serving their lifework.

The first award to an ovation of the audience was delivered to the legendary make-up artist Anatoly. Chirkov, whose job seniority at the Moscow Art Theatre is 65 years.

Justly celebrated were actors Kirill Trubetskoy (15 years of service), Alena Khovanskaya (25 years), Marina Brusnikina (30 years), Stanislav Lyubshin, Rimma Korostelyova, Boris Korostelev (35 years), Vyacheslav Zholobov (45 years), Irina Miroshnichenko (50 years of creative activity!); Assistant Artistic Director, Head of Repertory Planning and Company Management Olga Khenkina (15 years), MXAT Associate Artistic Director and President of the MXAT School Anatoly Smeliansky (35 years), Production Department employees Tatyana Vashkina, Svetlana Veselova, Nikolay Dyachkov, Alexander Zhernosek, Kirill Zobov, Tatyana Kalyonova (15 years), Galina Vorontsova (25 years), Irina Moiseeva (35 years), Chief Lighting Designer Damir Ismagilov (35 years); stage manager Lyudmilla Sushkova, Assistant to the Head of Music Department Lidia Sokolova (15 years), concertmaster Tatyana Pavlova (25 years old), Head of Power Supply Department Nikolai Kuzmenko (30 years), editor of MXAT Publishers Natalia Boyko, House Manager Svetlana Bugaeva (15 years), Associate Managing Director for Audience Development Natalya Vinogradova (40 years), box-office managers Lyudmila Vinogradova and Valentina Malanina, usher Elvira Lin′kova, cloak-room officer Valentina Sheveleva, stage door keepers Larisa Byshina and Rolia Stepanova; Maintenance Department employees Lidia Bogdanova, Valentin Bransky, Lyudmila Tarabukina; driver Nizam Omarov (15 years);
Faculty and staff of the MXAT School Yevgeny Pisarev, Elena Korotkevich, Inga Arkhipova, Lyubov Zelenova, Alexey Kondratiev, Ivan Milyaev (15 years), Larisa Tserazova (25 years), Tatiana Goryacheva (35 years);
MXAT Museum staff members Sergey Zhdanov, Maria Smoktunovskaya (15 years old), Tatiana Zhdanova (25 years), Museum Director Marfa Bubnova (35 years).

At the conclusion of the ceremony, Oleg Tabakov and Anatoly Smeliansky delivered Russian Ministry of Culture citations for the contribution to development of culture and many years of fruitful work to actresses Olga Litvinova, Kristina Babushkina, Kirill Trubetskoy, Deputy Head of the artistic production workshops Irina Petukhova, Deputy Chief Accountant Alfia Vasenina, staff administration Nadezhda Kukushkina and Andrei Kindeev.

We wholeheartedly congratulate our colleagues with the holiday and well-deserved awards!
>  October 20,
Job by Sasha Denisova. Additional Showings Scheduled.
We have scheduled two additional showings of 
Job
workshop by Sasha Denisova as part of the
Modern Actor in the Modern Theatre
Directors' Lab.
October 29& 30@ 19:00.  Tickets will not go on sale.  If you wish to attend please email us at 
zritel@mxat.ru
and be sure to mention your name and the performance date.
>  October 10,
Reading Circle will be part of the Arts Night
Moscow Art Theatre is joining the The Arts Night project and invites the all-nighters onto the Small Stage, where on the night of 3rd to the 4th of November we will present The Poets of Nowadays program. The poetry of The Reading Circle favorites – Timur Kibirov, Vera Pavlova, Feodor Svarovsky, Dmitry Vodennikov, Dmitry Prigov and others – will be presented by Valery Troshin, Alena Khovanskaya, Pavel Vaschilin, Julia Chebakova, Olga Litvinova, Olga Voronina, Yana Gladkih, Yana Davidenko, Artem Bystrov, Nina Guseva, Maxim Blinov, Armen Arushanyan, Alexei Varuschenko, Anton Krasnenkov, Artem Volobuev, Alexei Kirsanov, Nikolai Salnikov, Larisa Kokoeva, Danila Steklov, Maria Karpova, Julia Kovaleva, Nadezhda Zharycheva, Maxim Stoyanov, Maria Pestunova

Directed by Marina Brusnikina

Arts Night at the Moscow Art will start at midnight. Running time is 2:00. Tickets are 350₽.
>  October 7,
The Golovlevs are celebrating 10th anniversary
Ten years ago, on October 7, 2005, we have premiered a production of The Golovlevs by Kirill Serebrennikov, based on the novel by Mikhail Saltykov-Shchedrin.  Throughout all ten years the cast of the production features Evgeni Mironov, Alla Pokrovskaya, Alexey Kravchenko, Eduard Chekmazov, Sergey Sosnovsky, Evgenia Dobrovolskaya, Ksenia Lavrova-Glinka, Sergey Medvedev, Julia Chebakova, Maria Zorina, Oleg Topoliansky, and Viktor Kulyukhin.

Congratulations to the Moscow Art with producing the art. The art of compound and lengthy nature, the art that is not playing giveaway games with the audience.  The art that is interesting even in its contradictions and imperfections.
Kommersant, October 8, 2005

Kirill Serebrennikov: Little Judas is Prince Myshkin upside down. Dostoevsky has presented the lightful side of the Russian soul, and Saltykov-Schedrin (who detested Dostovesky) has done his research the dark side of "one of ours". Golovlyov has build his entire life on the substitutes and stand-ins.  A life like that was bound for self-desruction. This great novel carries so much truth about us, that it is difficult – or rather it is very painful – to take it. Since nothing has changed over the last 150 years, this text remains utmost relevant nowadays.

The Golovlevs will be performed on October 18, 2015 to honor 10th anniversary of its opening.

>  October 3,
Oleg Tabakov on Stage Festival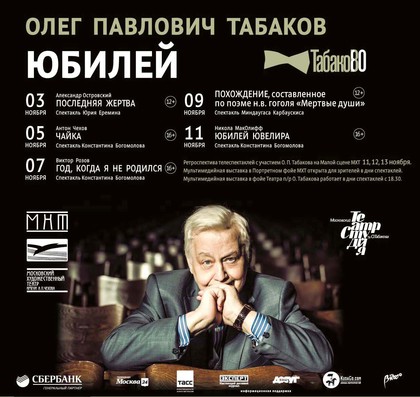 Oleg Tabakov on Stage Festival
 celbrating the 80th anniversary of our Artistic Director, will take place at the Moscow Art Theatre in the first half of November. Mr. Tabakov will be featured in five productions of the current repertoire of the Chekhov Moscow Art and Tabakov Theatre:
November 3: 
The Last Sacrifice
by Alexander Ostrovsky. Directed by Yuri Yeremin at the Chekhov Moscow Art Theatre.
November 5:
The Seagull
 by Anton Chekhov. Directed by Konstantin Bogomolov at the Tabakov Theatre.
November 7:
The Year I Wasn't Born Yet
(based on 
The Wood Grouse Nest
 by Viktor Rozov). Directed by Konstantin Bogomolov at the Tabakov Theatre.
November 9:
The Adventures
 compiled from
The Dead Souls
byNikolai Gogol. Directed by Mindaugas Karbauskis at the Tabakov Theatre.
November 11:
Jeweler's Jubilee
 by Nichola McAuliff. Directed by Konstantin Bogomolov at the Chekhov Moscow Art Theatre.
Retrospect of televised theatre productions at the Small Stage:
November 11
 — productions of the Sovremennik Theatre
14:00 —
Balalaykin & Co. 
by Sergey Mikhalkov. Directed by Georgi Tovstonogov (recorded in 1973).
19:00 —
The Twelfth Night
 by William Shakespeare.Directed by Peter James (recorded in 1978).
November 12
 — Tabakov Theatre productions
14:00 —
Uncle Vanya
 by Anton Chekhov. Directed by Mindaugas Karbauskis (recorded in 2007).
19:00 —
Love Letters
 by Alfred Gurney. Directed by Evgeni Kamenkovich (recorded in 2000).
November 13
 — Moscow Art Theatre productions
14:00 —
Amadeus
by Peter Shaffer. Directed by Mark Rozovsky (recorded in 2003).
19:00 —
Cabal of Hypocrites
by Mikhail Bulgakov. Directed by Adolf Shapiro (recorded in 2003).
Multimedia exhibition featuring Oleg Tabakov's works will be opened at the Portrait Lobby on the days of listed performances.
>  October 2,
Nikolai Skorik Gala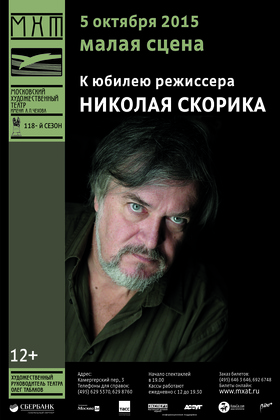 On October 5 we invite you to the evening celebrating 70th anniversary of Nikolai Skorik, Distinguished Artist of Russia, Assistant Artistic Director of the Moscow Art Theatre.
Participants to the gala include Irina Miroshnichenko, Evgeni Kindinov, Dmitry Brusnikin, Anatoly Bely, Irina Apeksimova, Alyona Khovanskaya, Anastasia and Ivan Skorik, Vladimir Berkun (Obraztsov Puppet Theatre), Nikita Vysotsky and Nikolai Skorik Atelier (State Culture Institute), musicians Andrey Semenov, Tatiana Rubina, Evgenia Khozikova among others.
Tickets are on sale in our box-office and on the website. Prices are 500₽ — 1000₽.