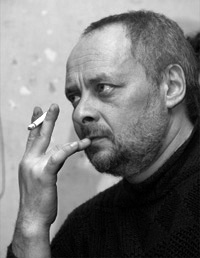 Artistic Director of†the Nebolshoi Playhouse (St.†Petersburg), an†accomplished director, actor, acting and directing teacher. Upon graduating from the Philological Department of†the Tomsk State University in†1977†he†decided to†pursue a†theatre career and went on†to†the Novosibirsk Theatre College where he†graduated in†1980†as†an†actor, and later to†the Leningrad Theatre and Film Institute. There he†has studied directing in†Georgi Tovstonogov's class of†1987, and has taught acting and was the apprentice in†Arkady Katsman's class in†1987-1989.

Mr.†Erenburg has collaborated with Yevgeny Arye Studio in†Moscow (now Gesher Theater) and with the Finnish Drama Theatre of†Petrozavodsk, where he†graduated the acting and directing class in†1992. He†has been teaching at†the Interstudio Branch of†St.†Petersburg Theatre Academy since 1994, and in†1999†has graduated his acting class there that led to†the formation of†Nebolshoi Playhouse. Selected productions include To Madrid! To†Madrid, based on†a†play by†Juan José Alonso Millán, The Orchestra by†Jean Anouilh, The Lower Depth by†Gorky, Ivanov and Three Sisters by†Chekhov; as†well as†his own adaptation of†Vassa Zheleznova by†Maxim Gorky for the Chekhov Moscow Art Theatre. He†has worked as†an†actor at†Novosibirsk Youth Theater and Chita Drama Theatre. His film credits include several Russian movies, including The War by†Alexey Balabanov.

Leo Erenburg is†currently teaching acting at†the Baltic Institute of†Foreign Languages and is†conducting master classes at†the Prague Theatre Institute. He†was twice nominated for the Golden Mask National Theatre Award as†the best director: for the Nebolshoi Playhouse Lower Depth production in†2006, and for the Pushkin Drama Theatre of†Magnitogorsk production of†The Storm in†2007.